It is designed to help you read and annotate scientific papers in PDF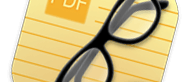 What's new in this version:
New Features
- Allow copying text for multiple notes from the note tables.
- Remember snapshot window locations when rebuilding snapshots on reload and reopening a file.
- Allow opening PDFs with any unrecognized file extension.
- Much more efficient undo implementation.
- Add Czech localization (thanks Czech X Team!).
- New hidden preference to disable automatic update of the contents of circle and box notes.
- Support links to locations in other PDF files.
- Apple Remote now scrolls faster.
- New toolbar buttons for display mode.
- Allow selecting text inside a highlight.
- You can now add new favorite colors using option-drag, and remove them by dragging to the trash.
- You can now set the fill color of circles and boxes using drag and drop by holding down the Option key.
- Use system font panel to choose default fonts, allows choosing font with traits.

Bugs Fixed
- Allow removing selection from a search in certain tool modes.
- Avoid warning when saving PDF bundle on Leopard.
- Fix a crasher when cropping pages.
- Properly include start/end point for line notes in FDF export.
- Revert selected image copying behavior on Tiger, to avoid a PDFKit bug.
- Don't use arrow buttons without modifiers to navigate pages, as this is used to move notes.
- Fix French translation error.
- Enable pinch-zoom for multi-touch trackpads.
- Never clear text contents of a circle or box note when it does not enclose any text.
- Trim whitespace and newlines from text in tool tips.
- Fix adding notes in AppleScript.
- Use correct action for menu form of Print toolbar item.
- FDF export now should always work, but may drop non-ASCII characters.