It is designed to help you read and annotate scientific papers in PDF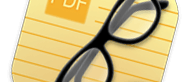 What's new in this version:
New Features
- Use dark toolbar images on Tiger.
- Allow printing without dialog from AppleScript.

Bugs Fixed
- Fix opening DVI files.
- Allow opening linked PDFs from notes document.
- Fix printing on Tiger.
- Improve toolbar validation.
- Fix conversion of PDF annotations to Skim notes.