It is designed to help you read and annotate scientific papers in PDF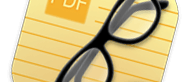 What's new in this version:
New Features
- Automatically select the proper paper size in the print info.
- Add support for Keyspan Frontrow remote control.
- Change the shortcuts for moving and resizing of the reading bar to avoid conflicts with Spaces on Leopard.
- New keys for note type icons to be used in RTFD export templates.
- Add Russian localization. (Thanks Michael Krekin!)
- Add QuickLook plugin for PDF bundles and Skim notes files.
- Add support for counters in export template.
- Show page number in window title.

Bugs Fixed
- Really prevent selection in Leopard for context menu.
- Fix remote control support.
- Fix empty thumbnails that could sometimes occur.
- Fix transition popup in French localization.
- More efficient gradient drawing.
- Faster save of disk image on Leopard.
- Fix line widths that could sometimes be wrong.
- Smoother first transition in presentation mode.
- Fix a possible crasher in DVI converter.
- Fix segmented buttons on Leopard, shift images and use consistent style.
- Smoother animation of button when swapping find tables.
- Fix an exception that prevented toolbar customization on Leopard.
- Reduce some unnecessary memory usage.
- Always synchronize full screen zoom button.