It is designed to help you read and annotate scientific papers in PDF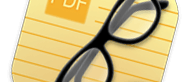 What's new in this version:
New Features
- Allow copying and auto-resizing rows in note documents.
- Allow viewing FDF files in Skim.
- Add a status bar to document window for notes.
- Update French localization.
- Remember window location and size for notes documents.

Bugs Fixed
- Really save FDF data in bundle.
- Fix a crasher in the skim notes window.
- Try to reconstruct split of short contents and larger text in anchored notes from FDF files.
- Allow opening PDF bundles saved with older version of Skim.
- Fix exported FDF for items without a border.