It is designed to help you read and annotate scientific papers in PDF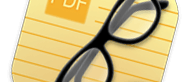 What's new in this version:
New Features
- Use blue background for some tables.
- Name files inside a bundle the same as the bundle.
- Add contextual menu items to note window to auto-size a single row or all rows.
- Support for import and export of FDF files, allowing interchange of notes with Adobe.
- New hidden default for the size of the preview tool-tip.
- Keep the color of a text note while editing.

Bugs Fixed
- Always use the currebnt selection for snapshots when available.
- Show full size of the content of a PDF bundle in info window.
- Fix a crasher when loading a password protected file.
- Update page labels and page clumn widths when unlocking a file.
- Report failing type-select in the status bar.
- Allow non-ASCII characters, such as accents, in type-select.
- Make sure the message in the search results table changes at the end of a search.
- Fix delete using delete key in note table.