It is designed to help you read and annotate scientific papers in PDF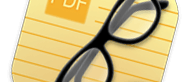 What's new in this version:
New Features
- You can now resize all rows of the notes table to view the full text.
- PDFSync from the editor now shows an indication of the target location.
- The tool tip of the table of contents and the table of search results now shows a preview of the target location.
- New toolbar item to add new note and highlights.
- Added contextual menus for tables.
- New menu item to save a disk image with the saved file. Useful for protecting and sending files with a large number of notes.
- Choosing Auto for the zoom of a snapshot auto-resizes the currently shown area rather than the full page.
- PDF view can now provide selected PDF for services.
- Skim can now download PDFs from remote URLs, which can be provided on the clipboard, dropped on the Skim icon, or through Services.
- Added a service to open selected PDF in Skim.
- Added a new item in the page setup sheet to automatically rotate pages for printing. Choose Skim from the Settings popup.
- You can now drag the image from an anchored notes window.
- Added type-select to quickly move to a page or an item in a table.
- You can now preview the image linked to an anchored note.
- Added some copy and delete actions as well as contextual menus to various tables.
- Some interface improvements.

Bugs Fixed
- Fix spell checking freeze for single page PDFs.
- Selecting text is now completely disabled in presentation mode.
- Changed shortcuts of Search PDF and Presentation to be consistent with other application.
- Improvements to the Find panel. We now synchronize with the global find pasteboard.
- Fix searching for application support folder on computer or network domain.
- Fix automatic determination of landscape printing for rotated documents.
- Reset thumbnails, table of contents, page labels and snapshots after unlocking an encrypted document.
- Allow copying text from copy protected documents.
- Disable printing and export with embedded notes of print protected files, as it doesn't do anything anyway.
- Disable full screen modes when the document is unlocked, as it has side effects.
- Fix dragging end points of lines on rotated pages.
- Fix copying PDF selection from rotated pages.
- Hopefully fix some problems with the placement of fullscreen windows.
- Fix window title for single page documents.
- Fix rounding problems when joining highlights.
- Implement Home and End keys in tables.
- Fix a possible crasher when reloading a file.
- Fix placement of full screen windows on secondary screens.
- Open all snapshots fom a previous run.