It is designed to help you read and annotate scientific papers in PDF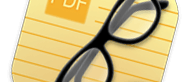 What's new in this version:
New Features
- Add a menu item in the Help menu to visit the web site.
- Add single-character shortcuts to change the note style in note mode (t, n, c, b, h, u, s, a).
- Fix PDFSync support to work with file names containing spaces.
- Add hidden default for activation of navigation buttons in presentation mode (SKActivatePresentationNavigationAtBottom).
- Start search using the find panel at the current page when there is no selection.
- Wrap selection using the find panel.
- Add support for apple remote control. It can be disabled through the hidden default SKEnableAppleRemote.
- Hidden defaults for line ending style of arrows (SKArrowNoteStartLineStyle, SKArrowNoteEndLineStyle).
- Hidden pref option for reading missing notes from separate .skim file (SKReadMissingNotesFromSkimFileOption).
- You can now open the corresponding PDF from a Skim Notes document.
- Skim can now read TIFF images from the clipboard.
- New select tool. Allows you to copy PDF and TIFF images from a section of a page.
- You can now search Skim note files from Spotlight.
- New Crop menu items and toolbar button.
- Cropping and page rotation are now undoable.
- Allow reverting a document when it has changed on disk.
- New menu item to set the selection from the content of the page.
- Hidden defaults for automatic crop box margins (SKAutoCropBoxMarginWidth, SKAutoCropBoxMarginHeight).
- New Zoom To Selection menu item and toolbar button.
- New preference option to open files fit to the PDF.
- You can now join markup highlights using shift-click, or by selecting a highlight before adding a new one.
- You can now supply templates for text export of notes. See the wiki for more information.

Bugs Fixed
- Fix links in help.
- Don't create a new note in note tool mode on mousedown outside a page.
- Don't add new resizable notes in note tool mode when just clicking.
- You can now access links that are "hidden" by transparent highlights and arrows.
- Scroll reading bar to visible when it is shown.
- Scroll to previous position on page when reloading PDF.
- Escape spaces in TeX editor command.
- Thumbnails now use the current display box.
- Retry automatic reloading of files changed on disk a few times.