It is designed to help you read and annotate scientific papers in PDF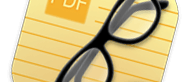 What's new in this version:
New Features
- Add shortcuts for bigger/smaller font sizes.
- Command-click a snapshot.
- We now print notes and highlights.
- Add copy/cut/paste items to the contextual menu, when they apply.
- You can now make a snapshot of a page by Command-clicking a thumbnail.
- Added Dutch localization.
- We now do not leave Full Screen when switching to another application.
- Export notes as RTF.
- Add preference options for default note/highlight colors and text note font.
- Add menu item to save the current PDF display settings to be used for new documents.
- Search results from the Find Panel are now also highlighted with a red oval.
- Select search field when opening the Contents pane in full screen mode.
- You can now reset all preferences or all preferences in a pane.
- Added Italian localization. (Thanks Andrea Bergia!)
- Screensaver and sleep are now disabled in Presentation mode.
- Skim can now return to the last page viewed in a document.
- Link tool tips now show the top of the text when the link refers to the (empty) top of a page.
- Skim can now also view separate Skim notes (.skim) files.
- Using Sparkle for automatic updating. (Thanks Andy Matuschak!)
- Display the number of pages in the title bar.
- Skim can now automatically backup a skim notes file whenever it saves a PDF file.
- You can now resize the current note using the arrow keys, when you hold down the Control key.
- Notes are now ordered according to page and location in page.
- Several improvements of Skim's custom tool-tips.
- Add a menu item to select the search field.
- You can now add arrows to a PDF document.
- You can now add notes from external .skim files rather than just overwriting them.
- PDFSync support. See the Wiki for more information.
- You can now set transparent colors from the color panel.
- You can now set separate PDF view settigns for full screen mode.
- Add a Look Up in Dictionary item to the contextual menu.
- You can now undo edits of notes and highlights.
- Add a hidden preference (SKActivateFullScreenNavigationAtBottom) to show the navigation buttons in full screen mode only when moving the mouse at the bottom of the screen.
- Add hidden preferences for the line widths of circles and boxes (SKCircleNoteLineWidth and SKSquareNoteLineWidth).
- New tool modes for ading notes or highlights.


Bugs Fixed
- We now don't edit new text notes, so they can be moved, resized or deleted.
- We now make sure new notes are added to a visible page.
- Disable the TOC menu item when there is no TOC.
- Return to the location that was viewed when reloading a document.
- Search text in a PDf file asynchronously, so it does not block Skim.
- Fix crashes that can appear for links with missing URLs.
- Add separators in the Notes menu for categories.
- Fix a crasher when reverting a PDF-document.
- Fix typos in the Help and update for new features.
- Fix a crasher when reverting the document. Unfortunately this disabled tool tips.
- Open the contents pane to display the search term when opening from Spotlight.
- Save notes when auto-saving and exporting as PDF.
- Remember the width of notes pane.
- Fix leaks leading to excessive memory use.
- Fix back-tabbing through notes and links.
- Zooming using the scroll-wheel now only affects the current window.
- Lazy updating of page thumbnails to avoid slowdown when opening a file.