An easy way to move, watch, and share your videos on ALL your devices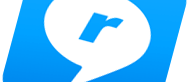 What's new in this version:
- Addressed an issue with connectivity on some wireless networks.
- On setup, a shortcut to the RealPlayer Downloader is added to the same folder as the RealPlayer application.
- Dragging multiple files onto the RealPlayer adds the files to the playlist window instead of opening multiple players.
- Added a preference to the Downloader to enable/disable Advanced Video Detection.
- Fixed an issue with the Downloader list on systems with multiple user accounts.
- Fixed an issue with streaming UDP transport through a transparent RTSP proxy.
- Fixed an issue with streaming reconnect when tunneling RTSP through an HTTP proxy.
- Fixed an issue where an unescaped colon results in a truncated url.
- Addressed a networking issue that prevented the player from automatically switching from Multicast to UDP transport for live webcasts.