Watch Internet video, HD movie trailers, and personal media clips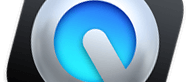 What's new in this version:
- Improved the music support and added sprite tracks which allowed the creation of complex animations with the addition of little more than the static sprite images to the size of the movie.
- QuickTime 2.5 also fully integrated QuickTime VR 2.0.1 into QuickTime as a QuickTime extension.
- On January 16, 1997, Apple released the QuickTime MPEG Extension (PPC only) as an add-on to QuickTime 2.5, which added software MPEG-1 playback capabilities to QuickTime.