Easy-to-use RSS/Atom news reader for Mac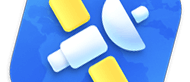 What's new in this version:
- Resolves problems with feeds from the BBC, and with Mac OS X 10.8's garbled favicons.
- Note: NetNewsWire and other apps are subject to crashes under Mac OS X 10.8.0, when automatic proxy detection is turned on. This is a bug only Apple can fix, but NetNewsWire's blog has instructions for a workaround.