The media player on macOS with new eye-candy fashion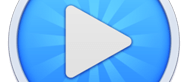 What's new in this version:
- Fix the album art in audio file.
- Fix display issues when changing window size.
- Fix window does not disappear when finishing the playback in EI Capitan.
- Fix pixelation in EI Capitan.
- Add hidden setting: AsyncMode.
- Change the app icon.
- several trivial issues in EI Capitan.
- KNOWN ISSUE: MPlayerX now does NOT work well when enter/exit Fullscreen in EI Capitan by dragging the window in Mission Control. It is because that the Fullscreen behavior changed so much from 10.6 and 10.11. Now I am trying to figure out a way to fix it without breaking the backward-compatbility, but at worst, it could be possbile that MPX will drop 10.7 and 10.8 support from next release.