A free application that lets you read Kindle books on your Mac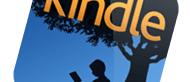 What's new in this version:
- New look and feel – lighter theme in the Reader view, flatter theme throughout.
- Touch Optimization – Customers will be able to zoom through pinching and turn pages by swiping on their touch screen.
- Better support of higher OS display scaling factors and higher resolution displays.
- Notebook Export – For eTextBooks, customers will now be able to export the content of their annotation notebook into an html file and save it on disk.
- Ability to open PDFs from within the app – PDF files can now be opened directly from the app.
- Enhanced two finger scrolling on trackpads – Touch support for finger scrolling is now more seamless and avoids turning more pages than desired.
- Bookerly font is now available for selected content.