Cross-platform plugin plays animations, videos and sound files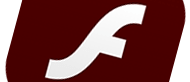 What's new in this version:
- Many Linux camera issues have been fixed. Please report any additional issues you encounter.
- Linux full-screen optimizations have been made. Please report any additional issues you encounter.
- startDrag() does not work when movie clip is 3D. (216415)
- LiveCycle WorkSpace cannot log in using Flash Player 10 Beta. (223394) WORKAROUND: Use Flash Player 9.0.124.0.
- Vector printing on Macs works now!
- New Text Engine: Vector Printing isn't currently enabled.

Custom Filters and Effects:
- Mac PPC: Color distortions may appear when applying a Shader. ShaderJob returns unexpected values for some Pixel Bender functions.
- Linux: Shader Jobs may return NaN instead of an expected Number value.
- Drawing API: Strokes are not visible on paths drawn with drawTriangles or GraphicsTrianglePaths. The lineShaderStyle is not implemented in Flash Player 10 Beta.
- Context Menu: The new AS3 Clipboard is currently only working for Mac and Windows. It is not yet working for the Unix players.
- Uploading images using Photoshop Express does not work with Flash Player 10 Beta. (1786882) WORKAROUND: Use Flash Player 9.0.124.0.

Dynamic Streaming:
- A crash when switching between videos of different resolutions has been fixed.
- A new Play Status event when switching between streams now actually happens: NetStream.Play.TransitionComplete.

RTMFP:
- Changing NetStream.BufferTime on the subscriber side of P2P connection, causes video to stop and possible crash
- No NetStream onStatus messages received when using NetStream.pause(), NetStream.resume() or NetStream.togglePause() for P2P connection
- Intermittent crashes/hangs when subscribing/unsubscribing multiple times to P2P NetStream.
- peerStreams array includes null streams in some cases.

Speex:
- Disconnect and re-connect network on Mac publisher causes sending garbled audio with USB audio devices. (227185)
- Speex audio may deteriorate when computer is overloaded. (222082)
- Peer-to-peer Nellymoser may incur in quality degradation when packets are lost. (222469)
- Soundtransform for Speex does not work in loopback mode
Linux-specific issues:
- Flash Player 10 hangs when subscribing to a live audio stream. (222283)
- Linux subscriber receives deteriorated audio for about 20 seconds when switching from Nellymoser to Speex codec. (222306)
- Linux Subscriber P2P only: When Nellymoser audio is attached, the video plays slowly on the subscriber side. (222851)
- Video playback issues on PPC Macs have been resolved.
- Setting data on the system clipboard using System.setClipboard() now requires user interaction. This security enhancement helps mitigate potential clipboard attacks, and developers may need to update existing content.