Free media player for Mac with plenty of extra features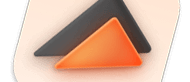 What's new in this version:
Added
- AirPlay support (content streaming to and from compatible devices) – PRO version
- Chapters support for MKV files
- The ability to automatically switch to fullscreen mode on playback start
- The ability to automatically close Elmedia at the end of playback
- The ability to move forward frame by frame in a video that is currently paused
- The ability to bookmark the current position in a video for quick access
- Screenshots can now be saved in JPG format – PRO version
- Screenshots can be captured at a predefined time interval (from 0.05 s to 3500 s) and frame by frame – PRO version
- New localization: Dutch (Netherlands)

Improved
- Better support of embedded metadata for audio files (cover art, artist, track name, etc.)
- Improved touchpad gesture controls (rewinding/fast-forwarding, changing volume)
- The window title bar gets automatically hidden on playback

Fixed
- Downloading from Vimeo – PRO version
- Automatic discovery of external audio tracks
- The downloads directory is now created only when it's needed (i.e., when a download starts)

Note:
- Version 6 is a paid upgrade from previous versions. It's free if you own version 6.x or a Lifetime Upgrades Guarantee; it's 50% off if you own Elmedia Player PRO 5.x or earlier. Feel free to email us to claim your free or discounted upgrade.