One of the best choices for a BitTorrent client on the Mac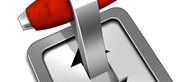 What's new in this version:
- Fix 1.90 crash-on-startup bug that affected some users.
- Fix 1.90 bug that caused the "turtle mode" state to be forgotten between sessions.
- Fix 1.83 crash when adding a torrent by URL from an ftp source via the web client.
- For the BitTorrent? spec's "downloaded=X" passage, use the de facto standard.
- Fix 1.90 bug when removing trackers.