A free open source desktop planetarium for your Mac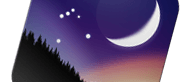 What's new in this version:
- Version 0.15.0 is based on Qt5.6. Starting with this version, some graphics cards have been blacklisted by Qt and are automatically forced to use ANGLE on Windows.
- We introduce a major internal change with the StelProperty system.
- This allows simpler access to internal variables and therefore more ways of operation.
- Most notably this version introduces an alternative control option via RemoteControl, a new webserver interface plugin.
- We also introduce another milestone towards providing better astronomical accuracy for historical applications: experimental support of getting planetary positions from JPL DE430 and DE431 ephemerides. This feature is however not fully tested yet.

The major changes:
- Added StelProperty system
- Added new plugin for exhibitions and planetariums - Remote Control
- Added new skycultures: Macedonian, Ojibwe, Dakota/Lakota/Nakota,
Kamilaroi/Euahlayi
- Updated code of plugins
- Added Bookmarks tool and updated AstroCalc tool
- Added new functions for Scripting Engine and new scripts
- Added Miller Cylindrical Projection
- Added updates and improvements in DSO and star catalogues (include initial
support of The Washington Double Star Catalog)
- azimuth lines (also targetting geographic locations) in ArchaeoLines plugin
- Many fixes and improvements...