It is designed to help you read and annotate scientific papers in PDF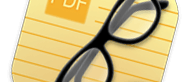 What's new in this version:
New Features
- You can now save PostScript and DVI with attached Skim notes.
- Change hidden default for the full screen and presentation navigation behavior, allow disabling it.
- Add a zoom slider in the full screen navigation controls.

Bugs Fixed
- Workaround for Leopard's buggy identification of file types.
- Fix selection behavior of toolbar buttons on Tiger.
- Fix activation of line wells in notes preferences.
- Increase minimum size of page column in snapshots table.