An easy way to move, watch, and share your videos on ALL your devices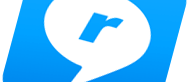 What's new in this version:
- RealPlayer Converter for Mac with the ability to copy video to devices like iPod, iPhone, BlackBerry and many other portable devices.
- Improved RealPlayer Downloader.
- Share your videos easily on Facebook, Twitter and MySpace with RealPlayer and RealPlayer Downloader.
- Fixed a problem where attempting to play SMIL presentations from a web browser failed to work or caused a browser crash.