Alerts you about outgoing network connections for your Mac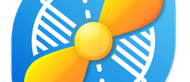 What's new in this version:
- Fixed an issue where the connection alert wasn't responsive during OS X updates. Updating Little Snitch prior to updating to OS X Yosemite is recommended.
- Improved "Repair Path" functionality and added a "Repair" button when showing "Invalid Rules" suggestions.
- Improved Automatic Profile Switching by adding support for latest versions of OpenVPN.